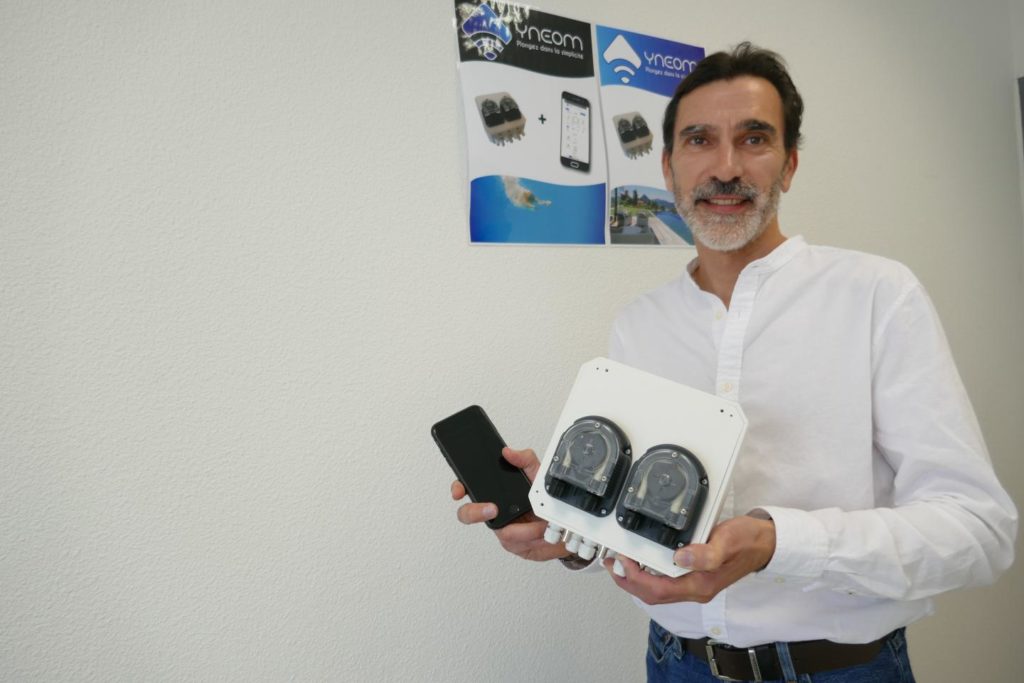 Ecological and economical the controller designed by Yann Cottreau, who lives in Beausset, and which is on display at TVT Innovation in Toulon, lets you manage your swimming pool remotely so that the colour of your pool always stays azure blue.
Say goodbye to your swimming pool turning green or irritated skin from adding too many chemicals. Yann Cottreau has invented a controller which is simple to use, reliable and automated; simply connect it to the WiFi and control it remotely from your smartphone so that the colour of your pool water is always sparkling blue. Yves, a trained electronic engineer who worked for 25 years in industry, left his job in February 2019 to create his company, Ynéom. In 2015, he designed the first version of his controller for his own swimming pool in Beausset.
THE CHALLENGE
To stand out from the competition, he designed a system where everything was integrated into a single controller; it is simple to install and use, by downloading the YnBlue application. As an added benefit: everything is assembled by pool specialists in Var for better after-sales service.
THE OBJECTIVE
The company is targeting swimming pool construction specialists in Var and Alpes Maritimes, who will recommend it to their customers as well as to pool maintenance companies who manage and maintain domestic pools on a weekly basis. This system enables them to optimise their monitoring and so reduce unnecessary visits. The solution is also useful for people with second homes who can control the system remotely.
THE PRODUCT
Once connected to the distribution panel, the easy-to-install controller manages all the water treatment tasks (including salt, chlorine, bromine and oxygen). pH correction and filtration are controlled automatically. YnBlue controls all the pools different systems, analyses water quality and temperature in real time, optimises filtration, water treatment and integrates its own metering pumps. All this is managed remotely using the app that you can download from the App Store and Google Play, and which feeds back all this information along with alerts to the user, and even provides weather forecasts in advance to help decide on the best time to intervene. This solution helps save energy and reduces the ecological impact. It has already been tested by a dozen pool owners from La Ciotat to Valbonne.
This article about our smart controller can be viewed in full, at Var Matin.